You are here: Home > Products > Flexible Metal Hose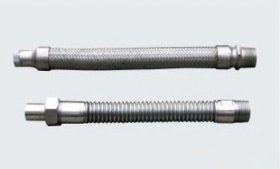 Flexible Hose for Spraying System
Specifications:
Nominal Diameter(mm): DN20
Material: Stainless Steel 304
Working Pressure: 1.4MPa
Minimum Bending Radius: 50mm
Product Length: ≥ 300mm
Flexible Hose for Spraying System
Metal hoses for the flexible connection of the automatic sprinkler system are mainly used for the spray heads of automatic sprinkler systems of various buildings and the flexible connecting pipes of fire hoses.
This product is an ideal flexible connecting pipe of automatic sprinkler system for building fire protection, and it has reached relevant specifications and requirements of the design of building fire protection. Its characteristics include good corrosion resistance, high bearing pressure, good flexibility, beautiful appearance, easy installation, and the ability of compensate install deviation. Previously, the fire sprinkler head mostly connected rigidly with galvanized straight pipes in China. The rigid quality of galvanized pipe leaded to a high cost of installation, moreover, pipeline would rupture extremely easily in case of encountering the earthquake or other natural disaster. The poor ability of corrosion resistance make galvanized pipe easy to block after remain idle for a long time, which would make the whole automatic sprinkler systems failure, and it has caused several major safety accident in the past. So, in some developed countries and regions (such as Japan, Europe, North America and China's Taiwan province), it have been replaced by the stainless steel fire hose.