You are here: Home > Qualification
Qualification
1. Certified by ISO9001 International Quality System in 1994; and certified by ISO9001-2000 in 2003.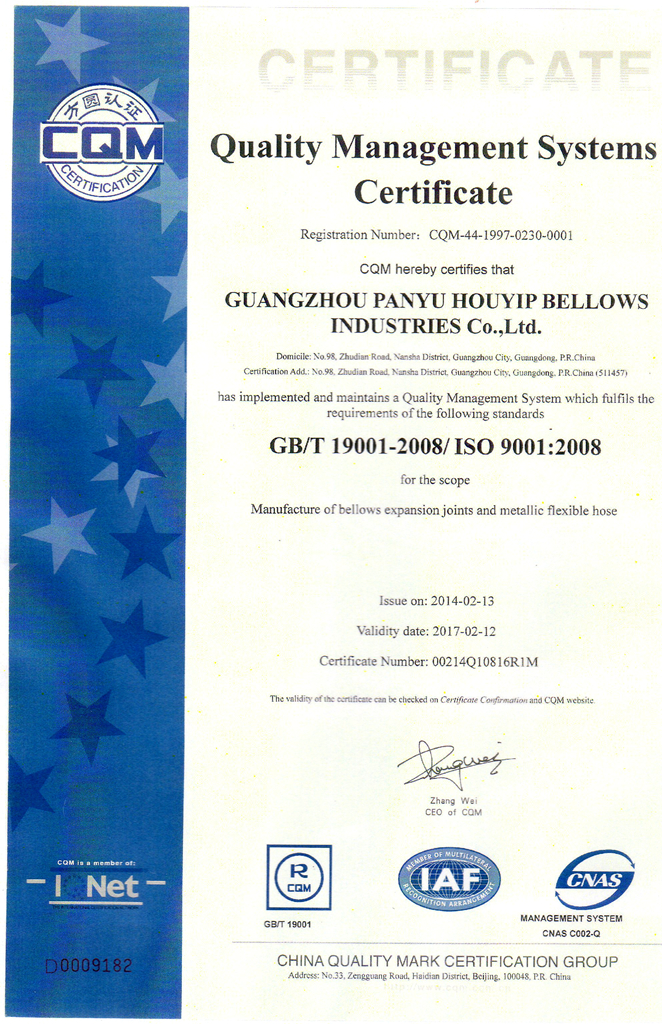 ISO9001 is an international quality management system that approves an enterprise is capable to provide the legal products and services which can meet the requirements of the customers and to attain higher satisfaction of them.
In the recent more than 20 years, Hou Yip strictly adheres to the standard of ISO9001 in quality control and enterprise management, aim at supplying our customers with high-quality products and professionally technical services.

2. Awarded the Manufacturing License for Special Equipment (Pressure Piping) of the People's Republic of China in 2006.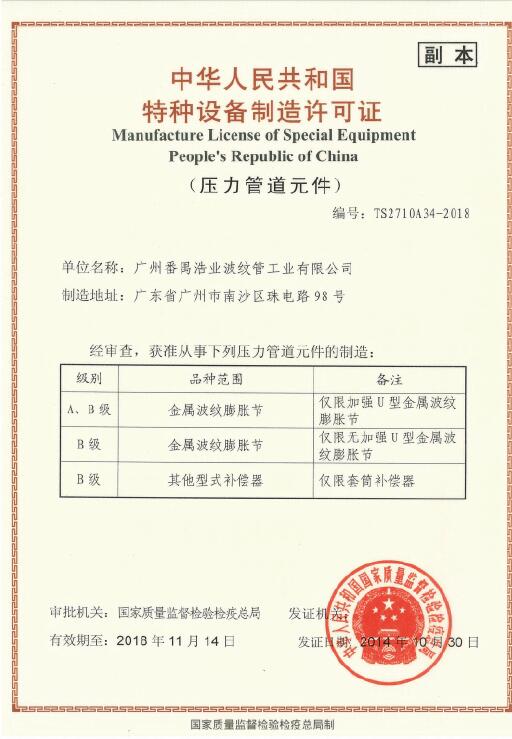 Chinese licensing of Special Equipment is under the responsibility of the Special Equipment Licensing Office (SELO), of the Department of Special Equipment Safety Supervision of AQSIQ (Administration of Quality Supervision,Inspection and Quarantine).
Regulation on Safety Supervision of Special Equipment indicates that
"Organizations carrying out manufacturing, installation or modification of boilers, pressure-vessels, elevators, lifting appliances, passenger ropeway, large amuse devices and safety accessories, safety protection devices, and the manufacturer of pipes, pipe fittings, valves, flanges, compensator and safety protection devices to be used by pressure pipes, shall be approved by the State Council's competent authority for special equipment safety prior to conducting above activities".
3. Awarded the China Classification Society(CCS) Manufacturing License in 2008.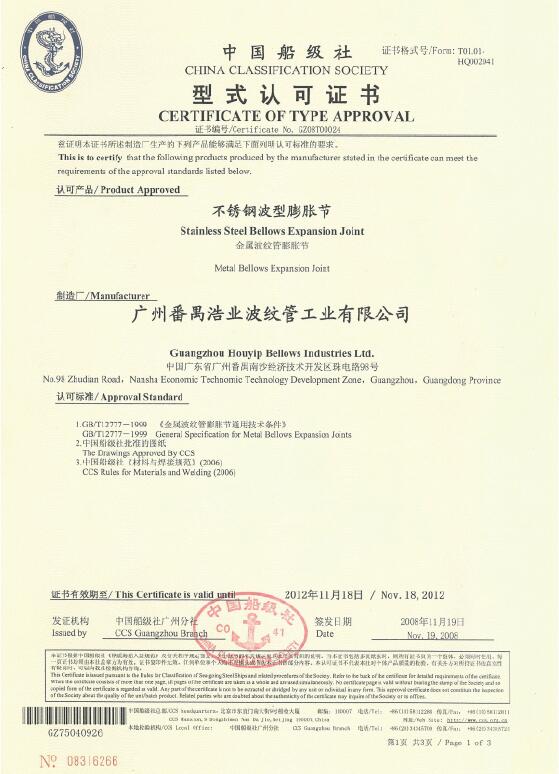 Founded in 1956, China Classification Society (CCS) is the only specialized organization of China to provide classification services. CCS aims to provide services for the shipping, shipbuilding, offshore exploration and related manufacturing industries and marine insurance by furnishing reliable classification requirements and providing independent, impartial and integral classification and statutory services to ships and offshore installations, for the promotion and safeguarding of the safety of life and property at sea and for the prevention of pollution to the marine environment.
4. Awarded the Det Norske Veritas (DNV) Manufacturing License in 2008.
DNV Classification is a service which comprises the development of independent technical standards for vessels, the DNV Rules for Classification of Ships, and the verification of compliance with the rules throughout the vessel's life.
The scope of Classification includes and requires that specified materials, components and systems intended for the vessel are certified in accordance with the DNV rules.