You are here: Home > Technology Article
Technology Article
On-site Installation Requirement for Fabric Expansion Joints
---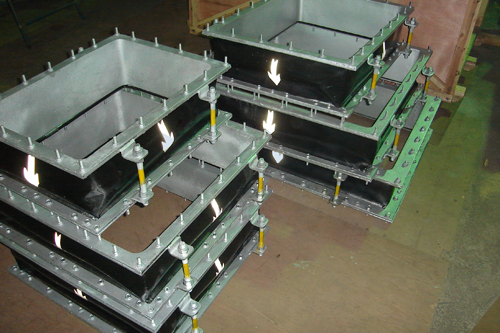 The fixed part of the fabric expansion joint should not be removed when installing as its self-rigidity is not good enough. After finished installing, it is required to be removed before the operation of the pipeline equipment. Fabric expansion joint should be lifted according to the order of the assembling parts, while lifting it after the pipeline equipment settled would lead to failure as the obligating space would be too small to install. When bundling it by the wire rope, make sure the part that touch the wire rope is well packed by rubber and taggers to prevent the covering of the fabric expansion joint from puncturing by the burr of the wire rope. It is advisable to temporarily install the T-type lifting lugs onto the fabric expansion joint, which helps to achieve the lifting symmetry as well as no damage occurs to the covering of the fabric expansion joint.
It is capable for the fabric expansion joint to absorb the expansion from three-dimensional directions. The expansion value be absorbed would be different as different place the fabric expansion joint installed. So firstly you need to find out where the fabric expansion joint should be installed according to the drawing, then number them by paint and define the working direction of it. The fabric expansion joint has its own working direction due to its structure that related to the direction of the flue gas flow, which should be noticed when installing.
In the recent engineering projects, most of fabric expansion joints are supplied by entirety, therefore the on-site installation guidance from the suppliers is essential. Pillow-shaped sealing material is one of the accessories of fabric expansion joint. The working principle of it is to wrap up one layer of stainless steel mesh onto the outer surface of alumino-silicate refractory fiber felts to avoid the heat insulator being taken away under the erosion of the flue gas flow at high-temperature and high-speed circumstance. During the installation, firstly pour one side of the sealing part before putting the pillow-shaped sealing material to settle the mould, and pour the other side. Take out the mould support materials when the installation finished. The thought must be stopped resolutely that the mould support materials would be burn out when working under the condition of high-temperature.
The fabric expansion joint has some metal or non-metal materials wrapped on the outer surface of the covering. It is no advisable to take off these materials during the installation as the function of them is to protect the covering from damage. The slag occurs from gas cutting and welding spatters both are in high temperature, which will burn the covering while the damage of it will cause leakage.