You are here: Home > Products > Flexible Metal Hose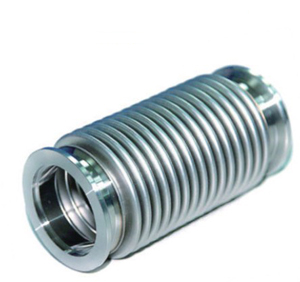 Vacuum Flexible Hose
Specifications:
Nominal Diameter(mm): DN10 - DN50
Material: Stainless Steel 304
Maximum Working Pressure: 0.2MPa
Highest Working Temperature: 300 °C
Leakage Rate: 〈 10 -3 Torrl/s
Vacuum Metal Hose
The metal hose for vacuum is composed of bellows and small flange according to the standard of DIN28403 through TIG welding, and it's used widely in highly specialized vacuum field. The features such as high flexibility, corrosion resistance, the quickness and convenience of assembling and disassembling, reliable sealing performance, make it a necessary pipe fitting in vacuum equipment, laboratory and test equipment. The small flange also can be produced according to the standard of GN6071.2-85.

Max Working Pressure: 0.2MPa
Max Working Temperature: 300℃
Leakage Rate: <10-3 Torrl /s
Material: Stainless Steel 304